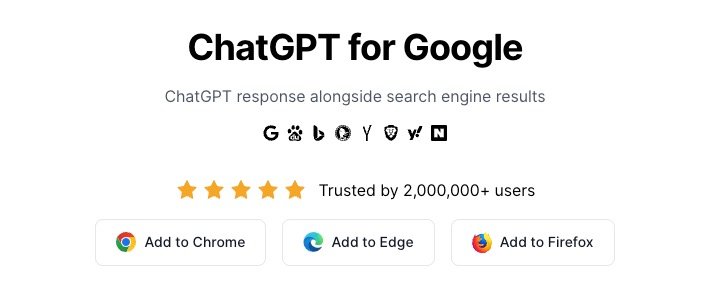 About Chatgpt4google
ChatGPT for Google is a browser extension that enhances search engines with the power of ChatGPT. It works by showing ChatGPT response alongside normal search engine results. The extension is free to use and currently supports Google, Baidu, Bing, DuckDuckGo, Brave, and more.
Chatgpt4google Key Features
Displays ChatGPT response alongside search engine results.

Supports multiple search engines.


Free to use.
What We Like About Chatgpt4google
ChatGPT for Google enhances search engine results by displaying ChatGPT responses alongside them, making it easy to get the information you need quickly and efficiently.
What We Dislike About Chatgpt4google
There are no major drawbacks to using ChatGPT for Google. However, some users may find the ChatGPT responses to be less accurate or relevant than expected.
Chatgpt4google Price
Free